Following on from our first report into the Mater Hospital Medical Registrar, Dr Emma Keelan, wherein we showed with Freedom of Information requests how she lied when she claimed…
…the Mater is full with young (in 20/30s) critically unwell, UNvaccinated COVID patients on ventilators who are now regretting their decision…
…we are now following that report up with new evidence we've obtained.
You may recall how when we challenged Keelan about her claim, she blocked us on Twitter and then proceeded to downgrade the ventilator aspect of her claim from initially referring to invasive ventilation to non-invasive ventilation.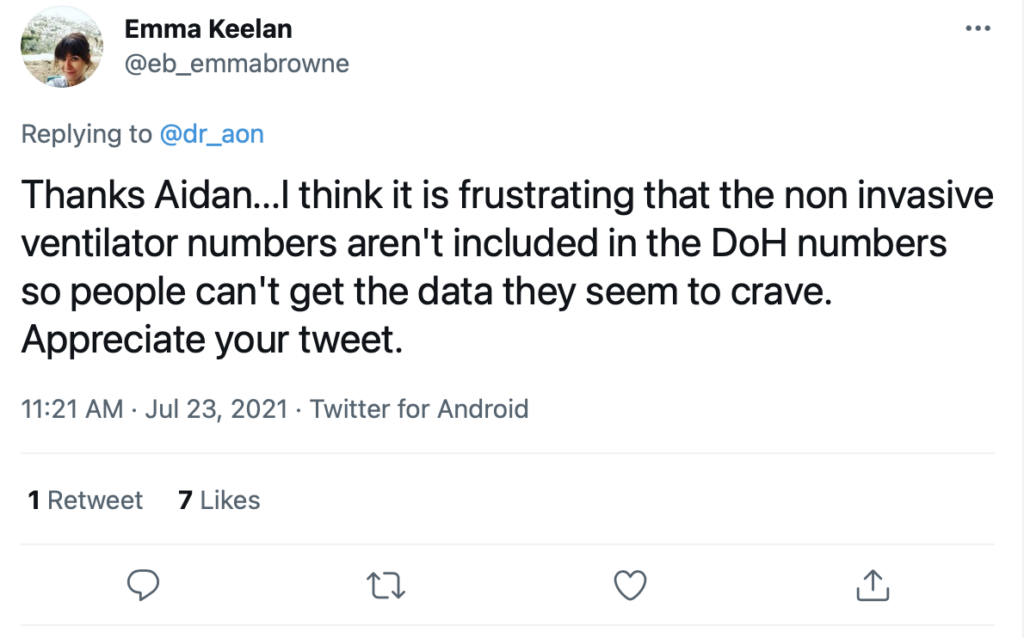 In our first report, we revealed how not alone were there NO patients of ANY age on ventilators in the Mater on the date Emma made her claims, but that the Mater didn't have an operational ICU at the time either.
The FOIs revealed there were 13 patients in the Mater on non-invasive ventilation (NIVs) on the day of Keelan's tweet, 22nd July 2021, but the Belfast Trust refused to provide the ages of these patients to us at the time.
In the absence of this information what we then did was generously apply all 13 NIV patients to the 20s and 30s cohorts, thus attempting to 'puff-out', as it were, Keelan's claims and afford them every benefit of doubt. But that in itself failed us, for on the night in question the Mater had the capacity to treat 60 patients on NIVs, yet it was only treating 12. So this immediately blows her reworded claim out of the water that she was referring to NIV patients and not invasive ventilated patients (which is what she was referring to initially).
However, still needed a breakdown of the number of patients on NIVs across all age groups, so after seeking counsel with sources, we decided to request a review of the Belfast Trust's refusal to share with us this information. We noted in the first part of our investigation that we were confident we'd eventually get the information we requested, as sources informed us it was being held back to minimise the impact of our exposé.

Internal Review Outcome
Below is the Excel Spreadsheet data as provided by the Belfast Trust to us at the FOI stage. On the 22nd July, the date of the Keelan tweet, the Mater had 42 inpatients aged between 22 and 99.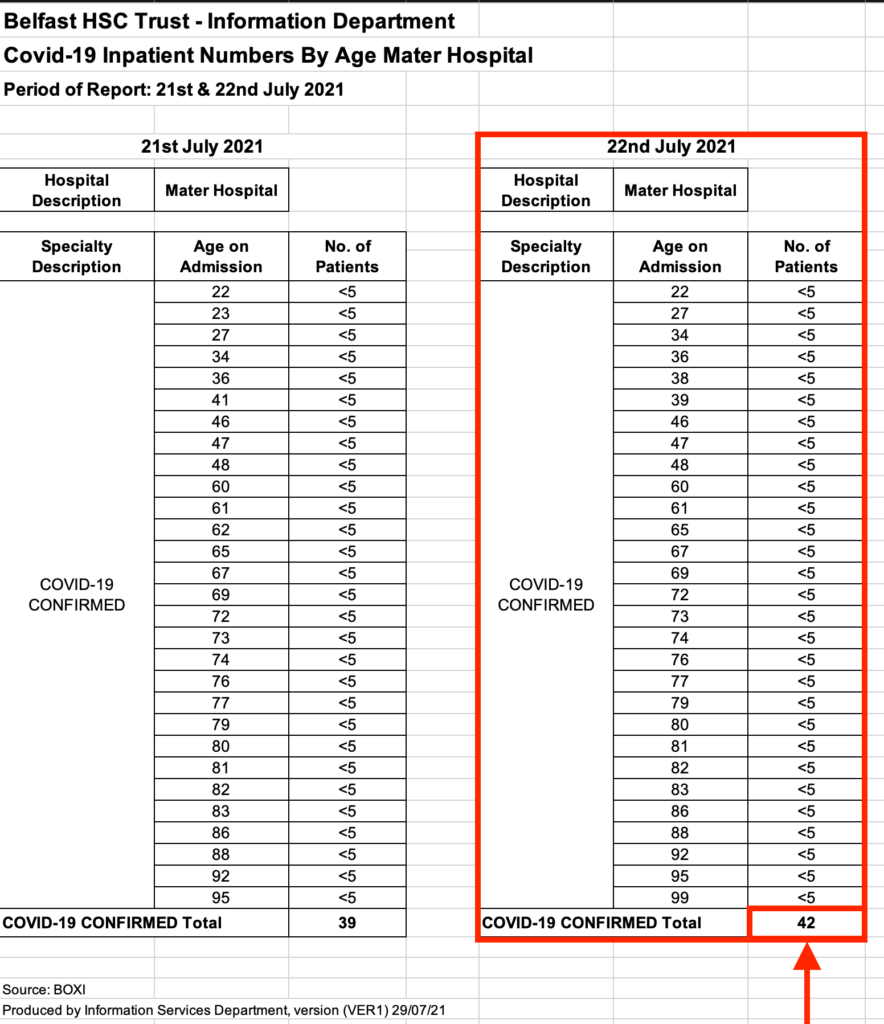 You'll recall they refused to give us a specific breakdown of patients per age saying that, "Please note, where the numbers are low we have stated <5 rather than give the actual figure. This is to ensure patients remain unidentifiable." – (We've now gone back for this data too)
They also refused to tell us what the ages of those on NIVs were, again using the same reasoning that as numbers were low (13) it would leave people opened to be identified, which is nonsense and something we successfully challenged.
At the review stage, we asked the Belfast Trust to provide us with the number of patients on NIVs by decade age-range; e.g. 20-29, 30-39 etc
Is it possible to provide me with a breakdown of ages into cohorts such as, 20-29, 30-39, 40-49 etc as per the DoH Dashboard? This should in no way "make patients personally identifiable".
The Trust this time provided us with the required information, and it's damning to the Keelan adjusted narrative.
20-29: 0 patients
30-39: 4 patients
40-49: 5 patients
50-59: 0 patients
60-69: 1 patient
70-79: 2 patients
80-89: 1 patient
In a separate question I sought the same data, only asked differently as to rule out any further confusion or uncertainty.
Me: How many [20/30 year olds] were being ventilated due to COVID-19?
Trust: Reviewed Response: 20-29: 0 patients, 30-39: 4 patients requiring non-invasive ventilation.
Crystal clear then. There were 4 patients aged between 20-39 on NIVs in the Mater on the 22nd July. This again validates our source's information, who told us at the time that all 13 NIV patients weren't in the 20s and 30s age groups.
We also know there were 12 NIV patients in the Mater on the 22nd July, so we again generously assumed all 12 were in their 20s and 30s. However, we have been reliably informed that a number of the people on NIVs on the 22nd July were over 40.
What our source couldn't be certain of was the numbers of those over 40 on NIVs, they estimated 7, but we couldn't work from an estimate, hence why we sought confirmation.
Takeaway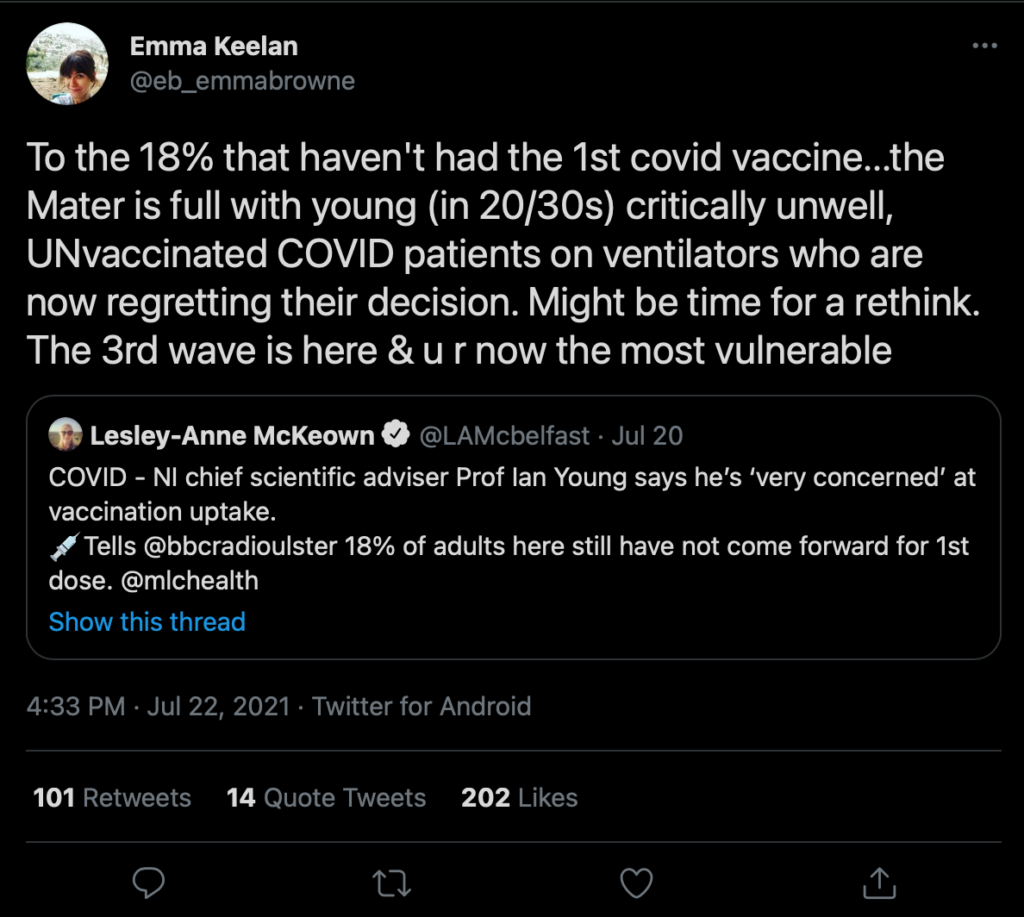 Emma's claims broken down:
The Mater was full of young patients in their 20s & 30s, critically unwell
The Mater was full of young patients in their 20s & 30s, critically unwell on ventilators
The Mater was full of young patients in their 20s & 30s, critically unwell on ventilators, who are now regretting their decision (not to get vaccinated)
The Mater was full of young patients in their 20s & 30s, critically unwell on non-invasive ventilators
The Mater was full of young patients in their 20s & 30s, critically unwell on non-invasive ventilators who are now regretting their decision (not to get vaccinated)
Dr Emma Keelan lied when she made these claims. She lied in her original tweet and lied again in her subsequent tweets after she was called out.
Armed with the latest information, I believe that there now exists a strong case to be answered for by Dr Emma Keelan in this matter. It is very clear that she lied and that she did so to raise fear levels and join in on the campaign of coercion directed at young people to take the vaccine.
This is an abdication of her duties and a breach of her signature to the Hippocratic Oath and to first do no harm.
Her lies were picked up on by BBCNI's radio shows, Good Morning Ulster and The Nolan Show and regurgitated, unquestionably and verbatim to a vast audience of worried listeners. In another report we highlighted how we challenged the BBCNI on their actions and how they abandoned our complaints before reaching a conclusion at Stage 1b. In doing so they have made it impossible for us to take the matter to their Executive Complaints Unit, and so we were forced to take the case to Ofcom.
We have a lot more to say and reveal on the BBC affair, and this is being laid out in a report we've already began drafting. But what this all points to is evidence of at best a blind eye being turned by the establishment and its media to disinformation that suits the establishment orthodoxy or, at worst, an organised campaign to spread disinformation to support that orthodoxy in the case of COVID-19 data and vaccinations. For the BBCNI to literally abandon a legitimate complaint that exposed their willingness to repeat unverified claims also points to a corrupt BBC outpost in Northern Ireland that tries to clean its own dirty laundry in-house. Stocking our curiosity and raising our suspicions about this possibility is not the best decision the bosses at BBCNI have ever made.