The BBC's Nolan Show has again allowed itself to be used as a vehicle to propagate disinformation. This time it was the turn of Dr Alan Stout of the British Medical Association and Chair of Northern Ireland's GP Committee. On the Nolan Show today, 8th November 2021, he claimed that Northern Ireland had the second-highest rates of COVID-19 infection in Europe.
So I mean we're well above nearly every country in Europe, strangely bar Belgium, which is higher than us.

Dr Alan Stout, Nolan Show, 8th November 2021
We previously highlighted how Stephen Nolan himself helped propagate outright lies when he read a tweet out live on air from the now discredited Doctor Emma Keelan that we have proven consisted of lies from start to finish. When we complained to the BBC about this event, they abandoned our complaint at Stage 1b on the 1st September, 4 weeks after we escalated it, forcing us into going to Ofcom. To date, Stephen Nolan has never accepted any wrongdoing nor apologised for reading out these lies. The precedent had arguably been set in teasing more people to spout disinformation in the knowledge that it would not be verified nor carry a penalty.
The Stout Claims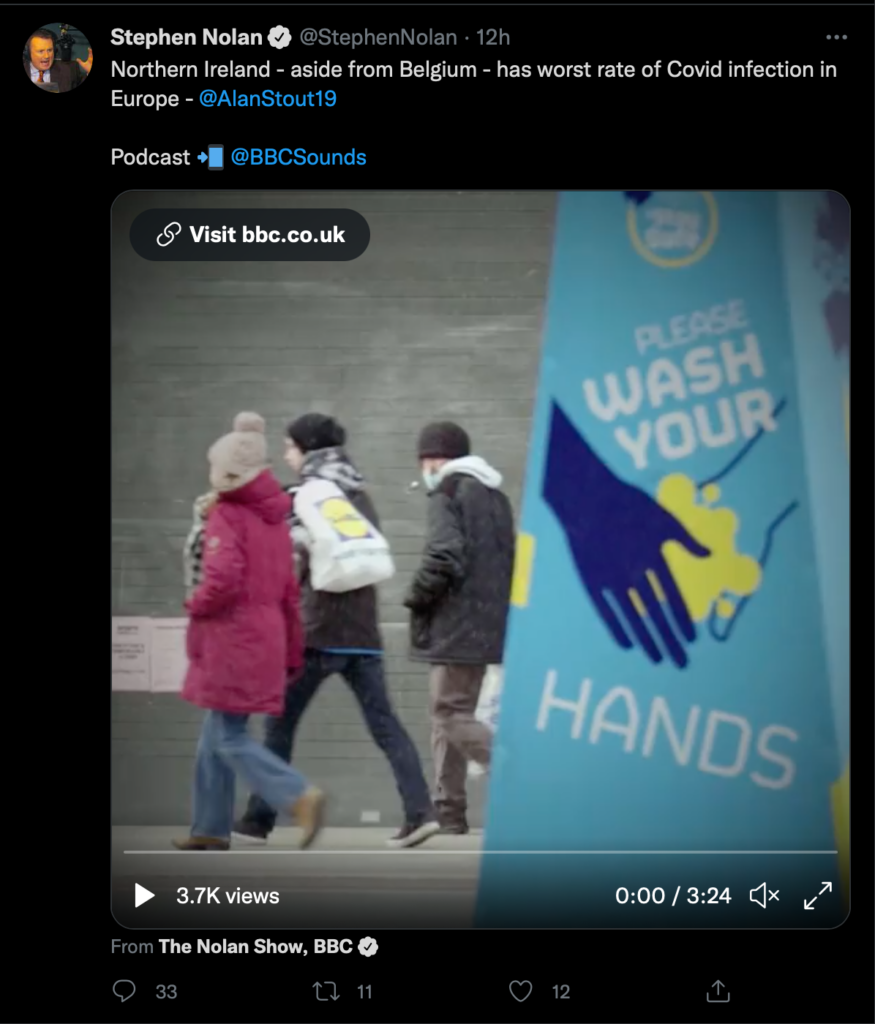 Nolan: Are you saying to me, per 100,000 population, are you saying that we have, bar Belgium, the worst infection rate in the whole of Europe?
Alan Stout: In Europe at the moment, yeah, we do.
Nolan: Here in Northern Ireland?
Alan Stout: Yeah.
In fairness to Nolan in this exchange, he does seem to doubt Stout's claims as he prods him several times to be sure he is referring to Northern Ireland.
Nolan: So Northern Ireland has the worst infection rates in the whole of Europe?
Alan Stout: Yip.
Dr Stout was given several chances to dilute his claims during questioning, but instead he remained steadfast and determined that he was referring to Northern Ireland and that it had the second-highest case rate in Europe.
To be crystal clear on this, Northern Ireland has NOT got either the worst or the second-worst COVID-19 infection rates in the Europe. Period.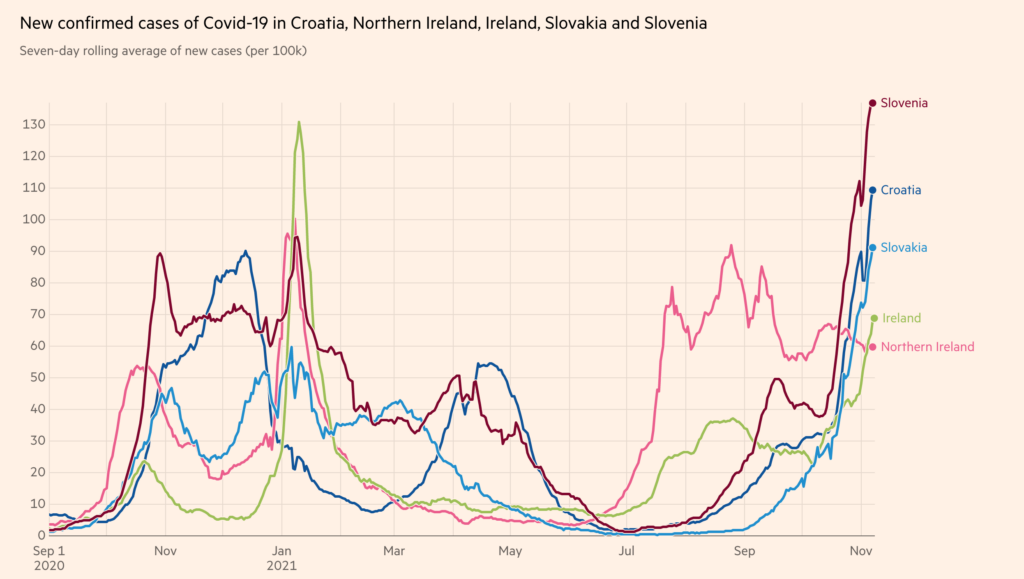 Above is a screenshot from FT.com and is current as of 8th November at 23:09 GMT. This website only allows for 5 comparisons to be made at a time, but this example in itself rubbishes the claims made by Dr Alan Stout. Even Ireland has surpassed the cases per 100k of Northern Ireland.
Stout's Judgement is Questionable
Many of you will recall our exposé of Dr Emma Keelan last month, wherein we evidenced the lies of a Belfast doctor who took to social media to ramp up fear levels around 20 and 30-year-olds to try and scare them into getting vaccinated. At the time we tweeted Dr Keelan, a source at the Mater hospital had informed us that her claims were untrue. Rather than employ a cautious approach, Dr Stout would race head-first into supporting her, labelling concerns such as ours as "ridiculous nonsense".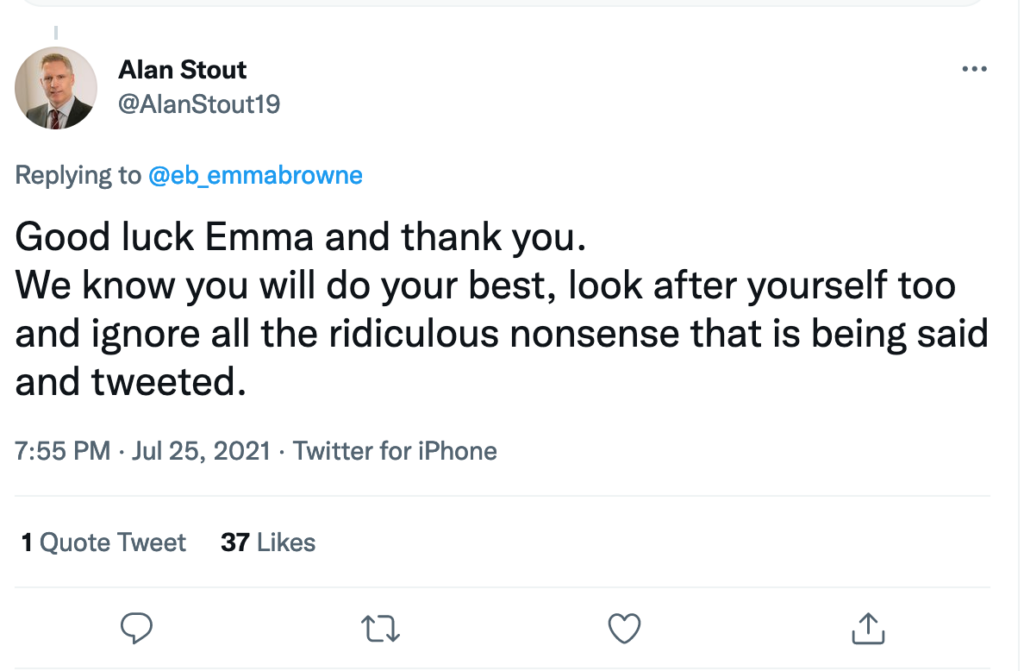 Of course, the ridiculous nonsense in this instance was Stout lending support to a colleague that was lying through her teeth whilst attacking those of us that raised valid concerns. A good example of the establishment protecting its own.
Takeaway
Stephen Nolan has only himself to blame for inviting disinformation peddlers onto his show. For when he physically reads out a tweet littered with lies live on air, with no attempt to verify its content and with no disclaimer attached, then when exposed he refuses to acknowledge his incompetence and errors, then this may well understandably send out the wrong signal to others that as long as your disinformation supports the prevailing orthodoxy then it will have a home on the Nolan Show.
The fact that Stephen's team of 'experts' were unable to verify a claim that took us 20-30 seconds to verify is also a concerning sign, for either his team too are incompetent in this sphere, or just plan lazy, or they are happy to permit 'approved disinformation'. Either reason should be of concern to us all.
We call on Stephen Nolan to issue a clarification tomorrow morning during his show, explaining how the information he allowed to be peddled from Dr Alan Stout to his listeners was wrong and factually incorrect. We also call on him to issue an apology and to assure his listeners that he and his team will endeavour to do better at stopping his show becoming a disinformation clearing-house.
Should he ignore our calls, then he best be aware that we are always here and at the ready to ensure all and any lies and disinformation we are made aware of are called out. For it is our mission to ensure the people of Northern Ireland receive the truth and that corporate media and their millionaire megaphones are held to account for any wrongdoings.