We first heard about Vaccine Passports in 2020. The 'conspiracy theorists' tried to convince us that it would happen as a result of the covid-19 pandemic but let's be honest, most people rubbished that idea and figured if a vaccine did come along, it would send the world back to normal and we would all be rejoicing.
Fast forward to 2021 and it is all we hear about. Our neighbours in the Republic of Ireland have implemented them, with an end date, apparently. Scotland are going to implement them, as are Wales. England have given so many mixed messages over the past few months it's hard to keep up but at the time of writing we believe there is no plan to implement them, though they are holding the measure in reserve (which probably means they'll announce them next week!).
Over the past few days our own politicians have nailed their colours to the mast with SDLP's Colum Eastwood calling on ministers to implement vaccine passports. The deputy leader of the Alliance party, Stephen Farry, has also publicly supported vaccine passports:
While the leader of the Alliance Party, Naomi Long, suggests in this tweet that vaccine passports may be a useful coercion tactic to increase the vaccination rates for some of the population:
So, let's look at what benefit they could have and why now, in 2021 we would need them.
According to the NI Vaccine Dashboard, vaccine uptake rates for Northern Ireland are: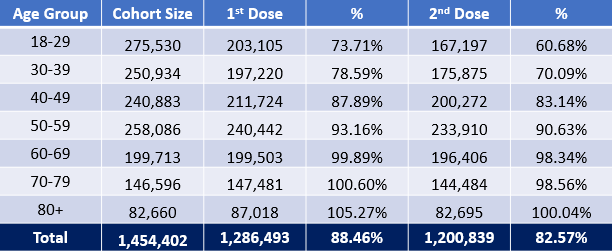 We are already 82.5% fully vaccinated.
The over 60's, which are at greater risk from Covid than the younger groups, are over 98% fully vaccinated.
Let's compare the admissions to hospital with Covid-19 in September 2021 with September 2020 (1st to 23rd for an equal time period):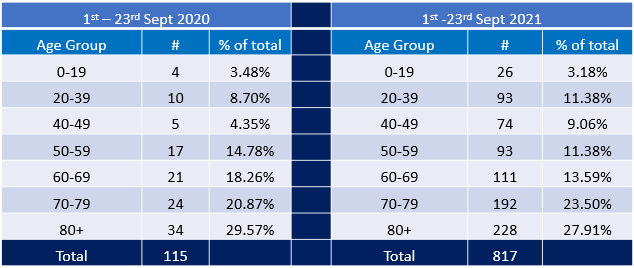 Today we have almost eight times the number of hospital admissions compared to the same time last year when there were no vaccines, yet the over 60's (98% vaccinated) still account for around two thirds of the total admissions
Next, let's look at the number of inpatients with Covid-19 in hospital on the 22nd September 2021, compared to 22nd September 2020: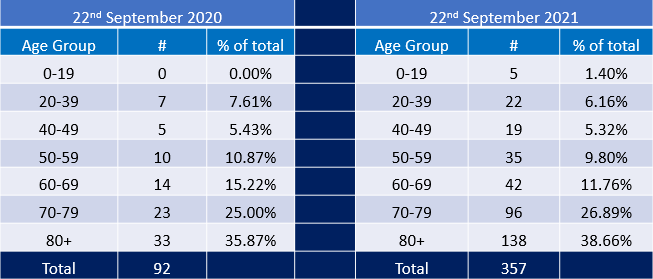 As expected, due to the much higher number of admissions, inpatients are also at a much higher number this year – nearly four times as high. The trend for the over 60s also remains similar, as for both years they account for over three quarters of the total inpatients.
A similar picture is seen for the number of covid deaths for the periods 1st Sept – 23rd Sept, for this year and last. 16 deaths last year Vs. 153 this year, with vaccines.

The vast majority in the over 60's age group who are, don't forget, over 98% fully vaccinated.
Colum Eastwood cited the Republic of Ireland's "success" following the introduction of their vaccine passports which saw the vaccine uptake increase, however they also have similar troubling statistics:
The Republic of Ireland has over six times the number of cases per million, more than three times the hospital admissions, and 30 deaths when there was zero on the same date last year. That's with a greater than 90% vaccine uptake, and a covid vaccine passport in place.
What is it about vaccine passports that these particular politicians think will help Northern Ireland as a public health measure?
Vaccine passports are very much targeted at the younger end of the population as they will be required for pubs, restaurants, cinema, concerts etc. so we can assume that the politicians are trying to increase the percentage of vaccinated people in the under 50's age range.
The data shows however that this population remains the least at risk from covid and the least likely to place a strain on the NHS should they catch covid.
But…what about 'They could pass it on and kill granny' I hear you ask? Well, over 98% of the over 60's are vaccinated so that should put their minds at rest.
Let's look at the sectors these are particularly targeted at. Hospitality and entertainment. We have a few key questions that we think should be answered to justify the call for vaccine passport for this industry. Requests have been made for this information and we assume it is available after the loud public calls for vaccine passports to be implemented:
How many cases have so far been traced to hospitality and entertainment settings to date?
How many of these cases have resulted in hospital treatment? What was the age profile of those requiring treatment?
How many 'close contacts' of those who caught covid-19 in a hospitality and entertainment setting went on to test positive for the virus, how many required hospital treatment and what was the age profile of those people?
There will have been modelling and forecasting produced to understand the positive impact that vaccine passports so we would also like to understand:
How many cases are forecasted to occur in the Hospitality and Entertainment sectors for the next 12 months without vaccine passports?
How many are forecasted to occur should vaccine passports be implemented?
What is the expected saving to our health service should vaccine passports be implemented?
How many lives will be saved as a result of vaccine passports being implemented?
We shall report back on all of this information as we gain access.
Our business community will be expected to 'police' vaccine passports if implemented. They will grant or deny access to potential customers based on their ability to confirm they have been vaccinated. We would also be interested in the costs to those businesses to implement such checks.
Will they need technology to do this? Who will pay for this? Who will maintain it? Will there be penalties for failing to implement? All key questions that any business should be asking at this time, especially considering the hospitality and entertainment industry has been hardest hit by the restrictions imposed by the government during the pandemic with some still operating under limitations and indeed some businesses are still closed, some closed for good.
We shall be continuing our investigations and asking these questions of politicians who publicly call for the introduction of vaccine passports.
The anxiety and mental health of our population has been negatively impacted by the covid-19 pandemic since March 2020 and public calls for further infringements on people's lives and livelihoods will only deepen those levels of anxiety.
Vaccine passports would greatly change the relationship between citizen and state. To require citizens to be vaccinated, whether it would be of benefit to them or others, just to live a normal life and for them to be required to carry proof of this specific medical status, should not be taken lightly. Such decisions must be backed by publicly available clear evidence and as yet, our politicians have failed to provide any such evidence.