As part of their drive to coerce as many young people as possible to get vaccinated, the Belfast Trust teamed up with FÉILE an Phobail to offer free tickets to the first 500 people who came along to get vaccinated at a pop-up vaccination clinic on the 3rd August. The tickets were for the popular festival dance night that hosts some of the world's leading DJs.
I reached out to both the Department of Health and Belfast Trust seeking to ascertain who was funding this drive and was informed the cost of the tickets was being met by the festival organisers who requested that the Trust send along a vaccination team.
This initiative was the idea of Feile an Phobail. Belfast Trust agreed to have a mobile vaccination team at the event to vaccinate the young people who presented for vaccination. This was in line with the Department of Health vaccination programme in bringing vaccinations close to where young people will be.

Belfast Health and Social Care Trust, FOIR
A jab in the arm and a prize possession?
ITV'S Barbara McCann would report from the pop-up clinic, claiming it was "incredibly popular".
The queue for the Pfizer vaccine and free tickets began 3 hours before this pop-up unit opened.

Barbara McCann, ITV
ITV along with every other corporate media outlet was clearly intent on selling the event as a HUGE success with McCann going on to ask:
But by all accounts it has proved incredibly popular. The question is, is this the way forward to increase vaccinations in the future?
Belfast Live's Orlaith Clinton would state that the "tickets were like gold dust" inferring that more people were wanting the tickets than what was available.
It's the hottest ticket in town, and it is every year, and they're like gold dust, and we seen the queues from 6 o'clock this morning.

Kevin Gamble, Feile an Phobail
Laura Hogan for RTE News was also at the pop-up clinic seeking to help portray the event as a success.
I think the added incentive of having the ticket from Feile for the dance night has definitely encouraged a lot of young people to come forward

Joanne Coogan, Belfast Trust
How Popular Was The Event?
The Andersonstown News reported on its front page that "Only 154 people turned up to be vaccinated.."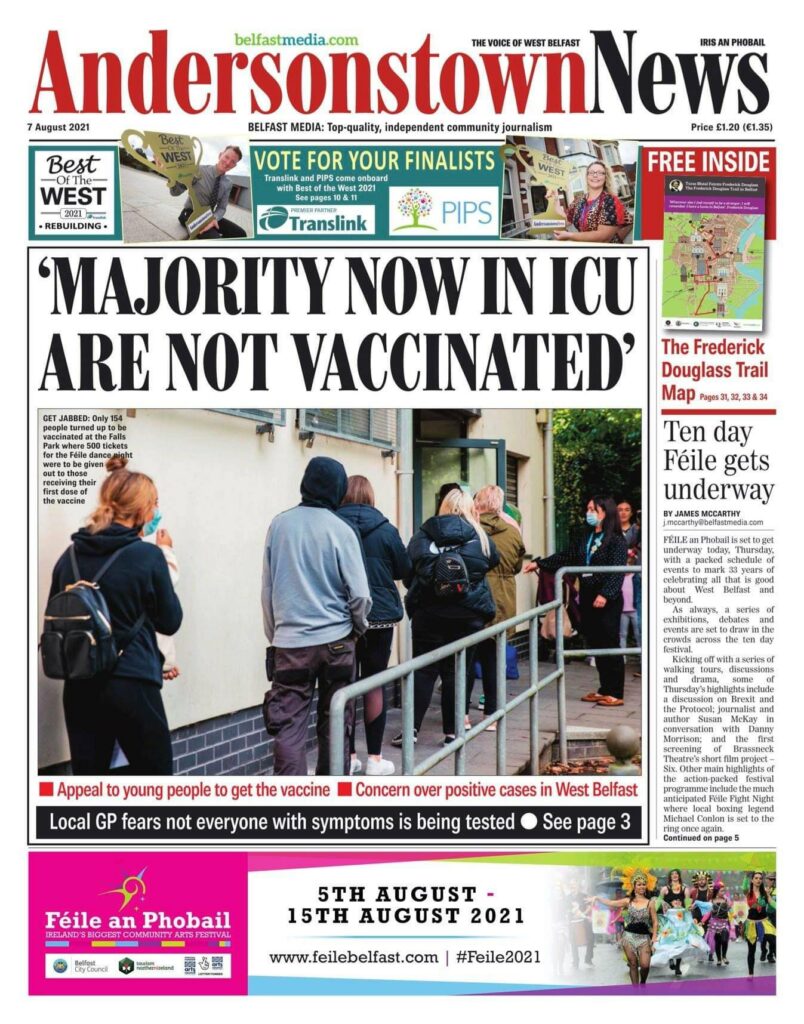 The BBC's wording is…well….typical of the BBC, as they opted to count vaccine doses administered rather than people who attended.
It's understood 154 people received a vaccination on Tuesday.

BBC
The Irish News is a bit more honest in its take:
Despite an early morning queue, numbers dwindled as the day went on and only 154 ultimately took up the offer.

Irish News
They would go on to suggest a more authoritarian approach should be taken, like that in the south of Ireland, where vaccinations are mandatory for indoor hospitality.
While festival organisers are to be commended for the initiative, evidence from across the border appears to suggest a firmer approach could be effective.

Irish News
Take-Away
This is yet another example of failures being sold as successes surrounding the various initiatives directed at coercing younger people to get vaccinated. Such actions only serve to deepen genuine suspicions held by many younger members of our community about these vaccinations by assuming reluctance to take the vaccines is down to laziness and greed that could be ironed out with some free festival tickets.
At the time of writing this report, 32% of 18-29-year-olds haven't taken a single dose of the vaccines. That's over 87,000 people. I have been told by informed sources that 'everyone was shocked at the low turnout, especially the CMO Michael McBride and Health Minister Robin Swann. Given the event is popular with this age cohort and given the media hype around it, it was believed thousands would turn up.'
Whilst we at Citizenjournos don't support the vaccination of young and healthy people, we also take firm views on freedom of choice, informed consent and personal responsibility. We should all be free to do what we want with our own bodies. The festival organisers are to be commended for making a big effort to do what they felt was right. Their failing was not so much their failing, but more so an extension of the failing of the Department of Health and Public Health Agency. They have continuously failed to engage with the almost 90,000 young people who have refused to be vaccinated, believing that their reasoning was down to being lazy, believing in conspiracy theories and being fickle enough to be bribed with an ice cream or festival ticket. The reason that many young people are dodging the jab is due to their concerns about being blackmailed and coerced into taking something they feel they don't need. Add this to Robin Swann and Michael McBride spending almost 18 months targetting the young in every way imaginable, and the result is a lack of trust between the young and those in power.
However, this vaccine refusal will continue in this age cohort until Swann and McBride accept they have played a part in alienating this large section of the community and are only reinforcing that separation by continuing the coercion and then allowing the media to spin failures as successes. This is just seen as another lie and rather than treating these almost 90,000 people with contempt, they should be treated with dignity and respect if there is ever going to be any chance of convincing them to get vaccinated.