The Northern Ireland Executive's "Behaviour Change Group" advised ministers on the importance of language when selling authoritarian measures to the public. They aren't "face masks", the Executive were told, they're "face coverings".
Another example of this 'language management' presents itself with the mandatory vaccine passports – they are to be called "Covid Status Certification". Even their name is steeped in dishonesty because these digital IDs cannot possibly confirm your "Covid Status". All they can do is confirm your vaccination status, and we know being vaccinated doesn't mean you aren't infected or infectious.
Some argue that as these "vaccine passports" can also be used to prove prior infection and a recent PCR result, they therefore do prove Covid status and this is again a dishonest argument. The one thing that could possibly prove your "Covid status" is a recent lateral flow test, however these results are not available via the vaccine passport system and can only be shown via email conformation from the NHS.
But this is the tip of the iceberg when it comes to the lies and dishonesty surrounding these Health IDs. The Health Minister Robin Swann publicly stated on the 21st April that he was opposed to their introduction in Northern Ireland, whilst recently he admitted to privately writing to the Executive the day after his public statement urging that they hurry up and get them on the books for future use.
When challenged on his holding of a separate public and private position on these passports, he claimed that what made him change his mind in April, 24 hours after opposing them, was the much more contagious "Delta variant". The problem with that excuse is that Delta wasn't recoded in Northern Ireland to the end of May!
But Mr Swann got his way and vaccine passports were announced on the 17th November 2021. They came into effect on the 29th November and became enforceable on the 13th December. But since their announcement, the hospitality sector has suffered huge financial loses as people are cancelling private bookings en masse.
At a time when the sector should be experiencing roaring trade as Christmas parties get under way, they are instead having to deal with cancellations and empty premises.
The day following the announcement, BelfastLive wrote,
"The hospitality industry is facing a wave of cancellations following Stormont ministers' decision to approve Covid vaccine passports."
"Hospitality Ulster has said that it has received numerous messages from concerned business owners regarding the scheme, with some saying they have had £50,000 worth of cancellations over the next three months as a result of the decision."
Colin Neill, Chief Executive of Hospitality Ulster, said,
"The evidence from Scotland shows that their limited use of COVID certification has resulted in a more than 20% drop in footfall, increased costs and extremely high levels of abuse to staff."
Yesterday the Irish News reported,
"Northern Ireland's hospitality sector is suffering a "catastrophic impact" due to a "massive number of cancellations and a drop in trade", an industry chief has warned."
Colin Neill of Hospitality Ulster was quoted in the story as saying,
"The other issue we have is that Christmas bookings have been wiped out with an avalanche of party bookings cancelled. Footfall has also dropped."
Co Antrim publican Stephen Reynolds said of the vaccine passports,
"It's divisive, it's confusing, it's time consuming."
"We've heard so much about Christmas parties being cancelled and I'm getting that first hand from Hospitality Ulster."
He goes on,
"Or you could have people who don't like the invasion of privacy and sharing of data deciding to just go to a house party where there are no rules, there are no measures."
In a now deleted tweet, the QuayWest Wine bar and Restaurant in Belfast wrote,
"For the first time in 21 years in business, we had Zero customers in the restaurant…"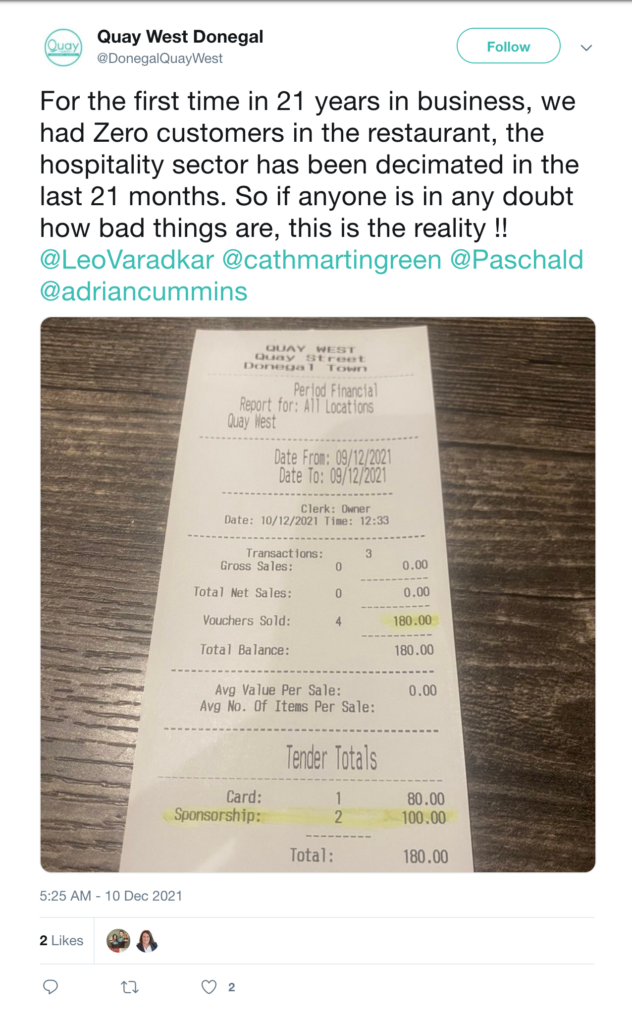 A new article today from The Caterer carries the following heading: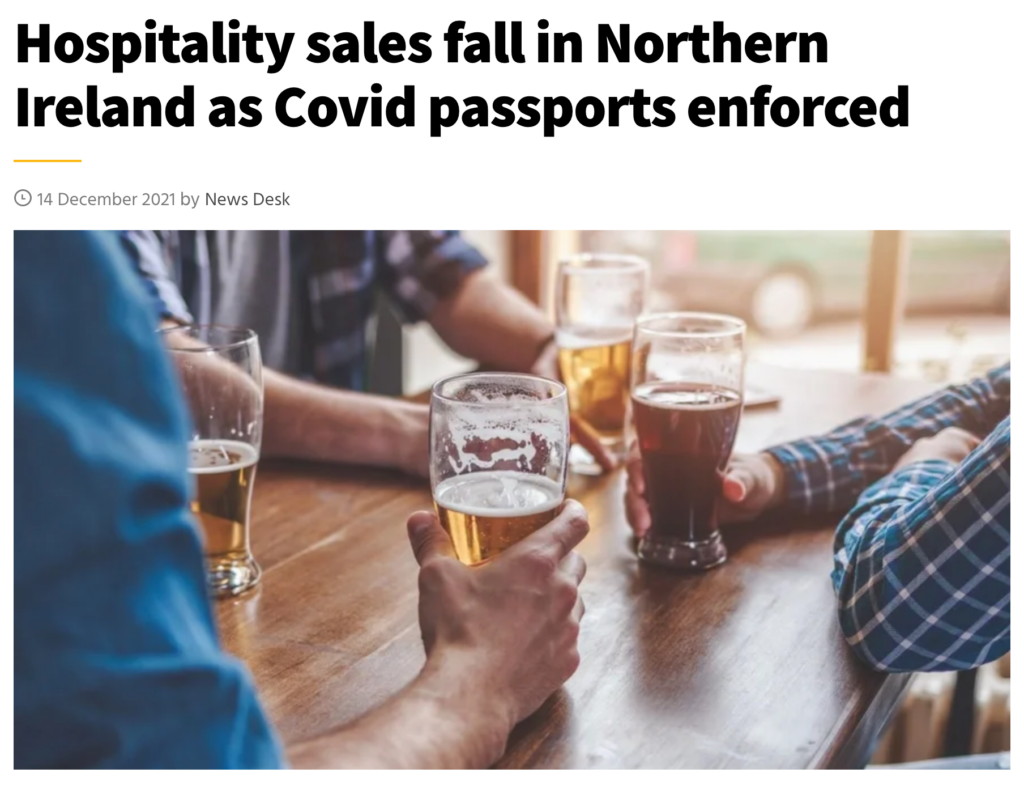 This headline is followed with,
"Hospitality businesses in Northern Ireland have been hit with cancellations and a drop in trade since the announcement that Covid passports would be required for entry into licensed premises."
On the Nolan Show on the 10th of December, restaurant owner Ian Clyde and Colin Johnson, the managing director of the Galgorm, both claimed that the introduction of the vaccine passport system has cost their business immensely.
There are endless stories like this available all over the internet from countries and nations that have introduced this papers based policy, wherein members of the public are required to prove their health status to gain entry into many sections of society. As you heard in the Nolan clip, even the vaccinated are cancelling events, suggesting that they too don't appreciated having to show their papers to enter licensed premises or cinemas.
Colin Johnson also questioned why no economic assessment has been carried out by the Executive on the introduction of these passports, and why it has been left to businesses to pay for staff to stand at the door and check the digital health papers of those seeking entry.
We should be outraged at the introduction of these vaccine passports, if not because of their divisive nature, or how they will, either by accident or intent, condition us to accept a type of society that we never should be accepting of. A society when your health status determines what freedoms, if any, the state permits you to have. Or because they are destroying the hospitality sector. If we don't reject them for those reasons, then we should be rejecting them based on the fact there is no evidence they will even work for their stated aim of reducing transmissions and infections.
If we as a society believe our politicians when they say they are 'following the evidence' then we must insist they stick to their word and do just that. As there is no evidence these passports work at driving down the spread of the virus, then we must demand answers as to why the same politicians are intent on ploughing ahead with this divisive and dangerous measure.
Indeed, anywhere they have been introduced has witnessed huge increases in infections and hospitalisations.
Yesterday during the Northern Ireland Assembly's Plenary meeting, party colleague of the Health Minister and MLA Alan Chambers gave us a great insight into the level of stupidity and pseudo-science that is being passed off as "expert opinion" within the Executive and the Northern Ireland Assembly.
"I've heard people saying that the COVID certificates have not worked in Scotland or the Republic of Ireland. How do we know that they didn't make a contribution to reducing rates of the virus?
"What has been the reaction in the Republic to their current transmission rates? Well, they've closed their nightclubs.
"Is that a place that we want to return to in Northern Ireland by ignoring the deployment of a tool that our experts say is necessary at this time "
Ireland have had vaccine passports in place since July, with only the vaccinated allowed into hospitality settings. Just last month, they even began restricting the vaccinated by introducing a 12pm curfew for pubs only they were allowed into. They've now decided to close nightclubs.
That all signals to a person of sound mind that the vaccine passports have not worked in Ireland. But unfortunately that kind of comparative process is alien to an Executive and their "experts" who are dead set on confirming their own biases. The fact that something isn't working must mean that it is, but we just can't see it.